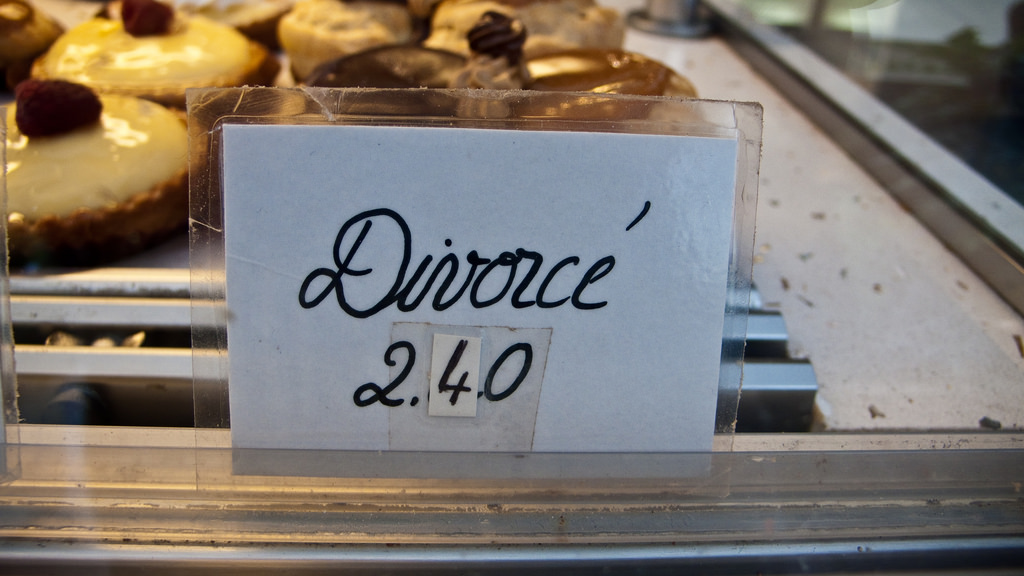 by Robert Occhialini on flickr
That's what we'd all like, isn't it?
When a relationship breaks down the last thing you need is an expensive and protracted argument. No one wants a fight, well, very few in my experience.
Our legal system tries to get it right but sometimes you could be forgiven for thinking that in fact it gets it very, very wrong.
So can anything be done to make the whole process cheaper and easier?
Divorce? Matrimonial finances? It's all the same thing isn't it? 
This may sound like technical nitpicking but the proceedings to end a marriage or a civil partnership are run separately, but often in parallel, to proceedings in respect of financial matters.
So it's important to bear in mind that while there has to be a court procedure to bring the marriage or civil partnership to an end, how the finances are sorted out is up to the couple. At one extreme, everything is agreed and so it's relatively cheap and easy, and at the other, nothing is agreed and the only way to reach a resolution is to go to court.
Could "No fault divorce" help?
Yes, I think so.
At the moment the only way to avoid having to blame your spouse for their behaviour or adultery is to live apart for two years and both agree to divorce. 
There's an organisation for family solicitors and other professionals called Resolution which has more than six thousand members who believe in a constructive, non-confrontational approach to family law matters. Resolution has a new chair, Nigel Shepherd, who has said, "It's wrong – and actually bordering on cruel – to say to couples: if you want to move on with your lives…. one of you has to blame the other."
It would definitely be helpful to get rid of the idea of blame. If allegations of adultery and unreasonable behaviour were behind us it would make the whole process a lot less traumatic and would probably make the division of the matrimonial assets easier to agree.
So what's the answer?
Gary Lineker raised blood pressure in legal circles recently in an interview in the Radio Times when he criticised the role of solicitors in divorces and said there should be an equation for deciding matrimonial finances. He said his online divorce had cost only £400.
I think he must have been referring to the pre 21 March 2016 court fee for a divorce which was £410, and of course this fee does not cover anything to do with the division of matrimonial finances.
If this is all he paid then I can only assume that Gary Lineker and his wife decided not to have a court order confirming their financial situation. Such an order would of course protect them both from future claims.
But he raised two important questions
How can we keep the cost of divorce down?
Could an "equation" be applied to matrimonial finances?
DIY divorces – do they do save money? Are there pitfalls?
Anyone can do their own divorce and pay only the court fee (now increased from £410 to £550). And, as already mentioned, a divorce, in other words the court proceedings which bring a marriage or civil partnership to an end, can be kept completely separate from the matrimonial finances.
So there's no reason why you shouldn't do your own divorce and pay only £550. All you need is form D8 and your marriage certificate (or civil partnership certificate). Here's a link to help you.
Alternatively ask your solicitor for a fixed fee quote. Although you would be paying more than just the court fee you might find it a lot less stressful to have a sympathetic professional handling all the technicalities for you.
Yes, there are pitfalls in DIY divorces 
There are a number, the chief of which is applying for the decree absolute (the decree which brings your marriage to an end) before you've sorted out the finances, or, if you have run the risk of applying for the decree absolute before you've sorted out the finances, remarrying.
What could possibly go wrong?
Well, your spouse or civil partner could die after the decree absolute and you could lose out under their pension. Or you could decide the time has come to sort out the matrimonial finances and discover you can't because you have remarried.
To be on the safe side, the matrimonial finances should be sorted out before the decree absolute.
What happens about the matrimonial finances? The assets? Maintenance? Your estate if you die?
Decisions have to be made, agreements have to be reached, and ideally they would be encapsulated in a court order to make sure a line is drawn under the whole question.
A court order means that if one of you changes your mind, or if one of you comes into some money, there's no going back for a second bite of the cherry.
If you are in agreement about the finances it's a relatively simple matter for a solicitor to draw up an order and to send it into court. Ask your solicitor for a fixed fee quote to undertake this work for you.
An equation for matrimonial finances – is that possible?
Does Gary Lineker have a point? Should there be an equation?
The current system is certainly complicated and confusing. Even though the aim of the court it to achieve fairness it's not always clear how this is brought about.
The Resolution Manifesto for Family Law calls for reform of the law relating to matrimonial finances. It supports pre-nuptial agreements and calls for guidelines on the division of matrimonial assets. A particular bugbear is the difference between matrimonial and non-matrimonial property.
What is the difference between matrimonial and non-matrimonial property and why is that important?
This issue is often highly fraught. For example, a couple has a range of assets, including the wife's savings. But she says this is her inheritance from her parents. And what about the money the husband received when sold his business after the couple split up?
Should her inheritance be taken into consideration? Should his post separation profits be in the melting pot?
It gets even more complicated with property owned pre-marriage. What about the wife's flat? Should this be taken into consideration?
The answer is not straightforward
It would certainly be easy to argue in respect of the examples above that they are non-matrimonial property but sadly it's not always that simple. Has there been "mingling", in other words has non-matrimonial property become matrimonial property because, for instance, the couple have lived in it as their matrimonial home?
And what are the couple's individual needs? Is it only possible to meet them by including non-matrimonial assets?
What does our legal system try to achieve?
Under our current system we are guided by s.25 Matrimonial Cases Act 1973, "Matters to which court is to have regard in deciding how to exercise its powers" together with "case law", in other words cases the courts have already decided.
And of course the first consideration is the welfare of the children.
At the moment there is no equation for the distribution of assets, no black and white definition of matrimonial and non-matrimonial assets, and pre-nuptial agreements are not automatically enforceable.
Instead our system is based on fairness and the needs of each member of the family.
What an equation could look like
There are many jurisdictions which have hard and fast rules about the division of assets on divorce. For example in Italian family law the matrimonial home always goes to the parent with whom the children live. In Ontario all post marriage property is divided equally on divorce.
These solutions do not have the flexibility of our system where a court can order an unequal division based on differing needs.
How can a flexible approach be better than an equation?
Whilst clarity in these issues is important I don't think many solicitors would go for a rigid equation. Why not? Because take any couple, take any family, and compare it to any other, and consider how different their circumstances and finances and needs are likely to be.
So I don't think there can be "one size fits all" in matrimonial finances
Our system actually tries to take into account how different all of us can be. It doesn't go for the easy route but it tries to achieve fairness. And this is important when you are trying to provide for your children, and for yourself, in the long term.
I believe there has to be a tailored approach in every case but this doesn't mean that there has to be acrimony and significant expense.
Could mediation or collaborative law be the answer?
If you can't agree how to divide your matrimonial finances it doesn't mean you have to opt straightaway for expensive court proceedings.
Perhaps mediation or collaborative law would be the answer? Quicker and cheaper and less stressful than court proceedings, couples can retain control of their decision making and not hand over all the questions to the court.
If you both want to find a way of agreeing the matrimonial finances and you want to avoid going to court then either of these approaches could be the answer for you.
Summary 
Cheap and easy divorce? Do your own divorce with guidance from the gov.uk site. Or ask your solicitor for a fixed fee quote
Are DIY divorces risky? Yes. Seek legal advice before apply for your decree absolute (which brings your marriage to an end)
Cheap and easy settlement of matrimonial finances?

A prenuptial or postnuptial agreement can help
Ask your solicitor for guidance on what you should expect to achieve in a settlement
If you can't agree a settlement try mediation or collaborative law
Whether you are in agreement, or you reach agreement through mediation or collaborative law, ask your solicitor for a fixed fee quote to prepare a court order confirming your agreement because this will give you peace of mind for the future.
Do you think that financial "needs" should be considered on divorce? Or do you think there should be an "equation" for dividing the finances? We would love to hear from you with your opinion so please leave us a comment.
If you have found this post interesting please sign up below for new posts by email.
The topics covered in this blog post are complex and are provided for general guidance only. If any of the circumstances mentioned in this blog might have application to you, you should seek expert advice.
JUST FAMILY LAW are specialist divorce and family law solicitors offering personalised legal solutions.
Visit our website just-family-law.com